Martinborough Pump Park
Council has given approval to the Martinborough Pump Track Project Community Group to move ahead with bringing Martinborough and the wider district its very own Bike Pump Track.  A detailed design process still needs to be undertaken but Council has approved the concept design for location at the western end of Considine Park (see below).  Fundraising for the project is underway.
What is a pump track?
A pump track is a circuit of rollers, banked turns and features designed to be ridden completely by riders "pumping"—generating momentum by up and down body movements, instead of pedaling or pushing
A pump track is designed for all things on wheels. From mountain bikes to BMXs and skateboards, a pump track is a playground for all wheels. By combining rolling jumps with turns, they are accessible for all. They teach the basic skills of carrying momentum, balance and speed by using your arms and legs to pump your bike/board/scooter around the track. As you get better, the tracks are designed to provide more challenges for you with no changes to the construction. A feature that a 5-year-old can roll through can also be used as a gap jump for a professional.
What are the benefits?
Pump tracks promote an active outdoor lifestyle and provide the opportunity for communities to be innovative. Pump tracks have become a hive of community activity, encouraging all generations to be healthy, fit and active. They teach basic skills such as balance and coordination that can cross over into multiple sporting disciplines. But most importantly they are FUN. Pump tracks are the modern day outdoor playground for all ages.
Scroll down to see a concept design of the Martinborough park. Grey Lynn also has incorporated a pump track into its local park – see it here
What is the project timeline?
The project is a community led project so the project progressing is dependent on sufficient funds being raised by the group.
Key tasks and milestones:
| | |
| --- | --- |
| Done | Project launch |
| Done | Project concept design |
| Done | Council governance approvals |
| | Commission project and agree on a Detailed Design |
| | Fundraise! Fundraise! Fundraise! |
| | Start construction of the Pump Track |
| | Project Completion |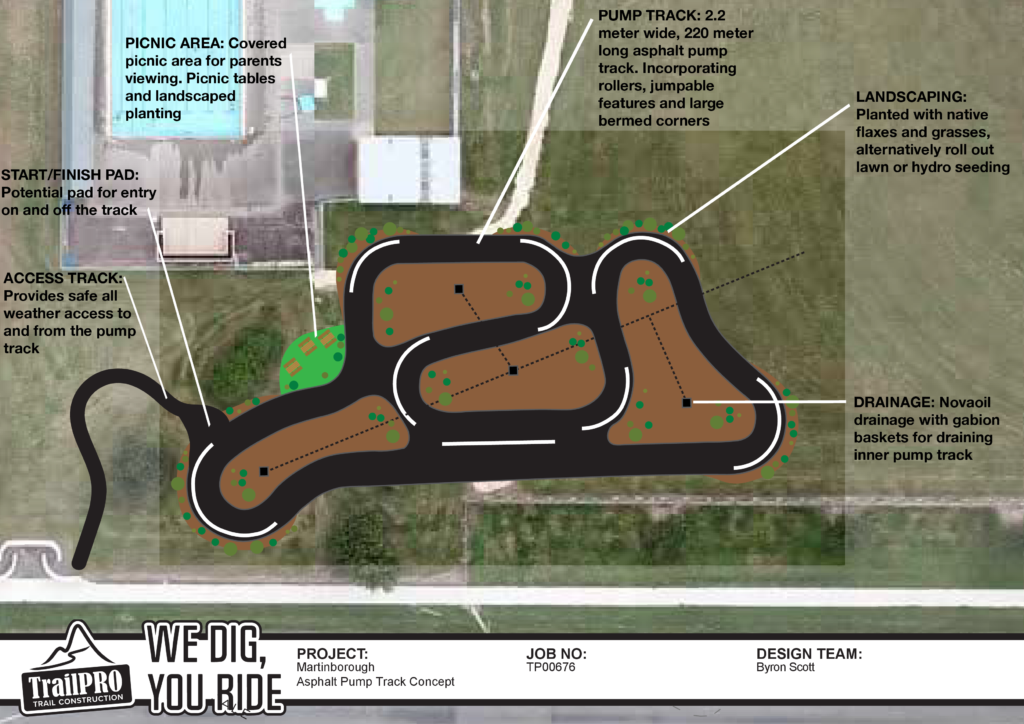 How can I help?
Charlotte Harding is leading this project on behalf of the Martinborough community. You can get in touch by emailing Charlotte, or sending her a private message on the group's Facebook page Marty Bike Pump Track Project