Hinekura Road Realignment Project
Background
Following several severe weather events, 1673 Hinekura Road was impacted by a series of major slips that made the road impassable on several occasions in 2020 and 2021. The landslide had likely been active for many years and was prone to ongoing movement and instability following heavy rain.
Plans were developed by Greater Wellington and WSP in consultation with the Council and community, to mitigate the risk of further erosion and stabilise the landslide area and road. See the Phase 1 Hinekura Road Remediation Project Archive page for details. Work on the Remediation Plan was close to being completed in May 2022, with mostly planting left, scheduled for spring.
Unfortunately, another significant landslide in June 2022 left the road substantially damaged beyond repair and a decision was made to close the road to all traffic and pedestrians due to the high level of risk from a landslide that continued to move. Further investigation and analysis were undertaken and the decision was made to realign the road. The Council has been working with experts to assess the options for road realignment and providing alternative access and support to the community while this work is undertaken.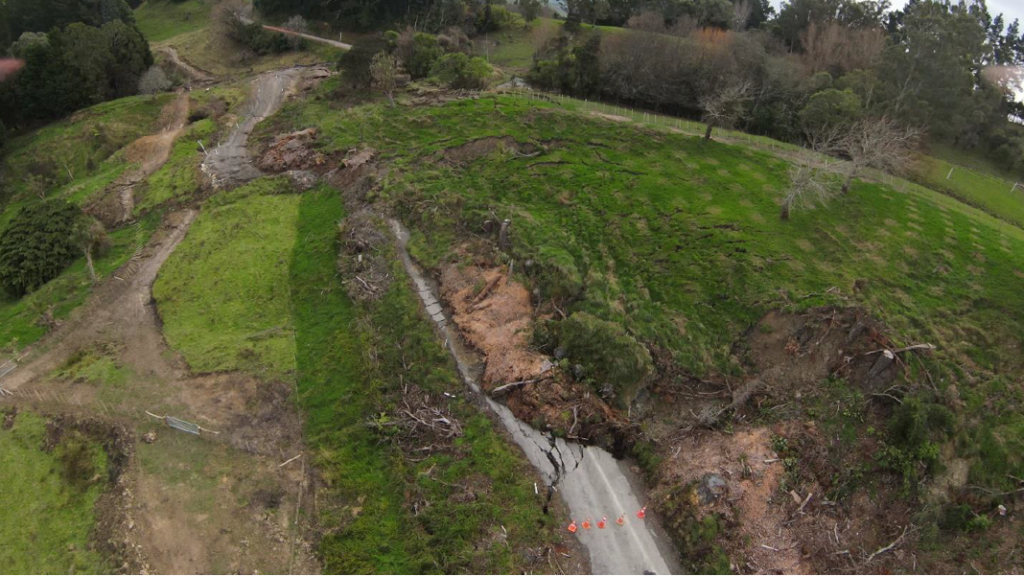 Project Timeline
June 2022
Hinekura Road Relief Fund
The Council launched a $20,000 Hinekura Road Relief Fund to ease the immediate burden on Hinekura residents. East Coast Rural Support Trust is administering the Fund. Residents can apply to the fund for immediate relief from costs that have resulted from the landslide. Ministry of Primary Industries has also made available a small amount to subsidise these costs from what is left from their Cyclone Dovi funds. Residents can email Sarah Donaldson at wairaraparst@gmail.com to access these funds.
Community Meeting
Council held a community meeting on Wednesday 29 June to hear from residents and discuss the effect of the landslide on them and local businesses. A number of central government agency representative, WSP and GWRC staff were present, as were elected members and Council officials.
WSP shared with them their preliminary suggestions for the new Hinekura Road alignment. The most promising routes that they wished to start exploring were the red and light blue routes. They are working with local landowners whose land these routes cross to seek permission and receive local knowledge/advice.
Hinekura Road Realignment Preliminary Options – June 2022
Hinekura Road Residents Meeting Minutes – 29 June 2022
Admiral Hill Road Access
Maintenance work was carried out on the alternative route via Admiral Hill to sustain extra traffic over a longer period. The road can be treacherous during bad weather and several actions such as smoothing out sharp corners, cutting back foliage for better visibility and new signage were completed. This is a continuous work programme as the road is impacted each time there is heavy rain.
Admiral Road has cattle access across it and there are five farm gates that need to be opened AND closed should anyone wish to drive through.
Community Support
The Rural Support Trust compiled a community and services database so the community is able to be connected to the right services. The Ministry of Education has worked with residents to adjust school bus routes where needed.
August 2022
Road Realignment Funding
Council fast-tracked funding for the engineered design plans to be completed by the engineering firm, WSP. Engineered plans will allow Council to apply for consents and legal permissions, funding from Waka Kotahi and then go to tender for the build.
Farm Track Access
Preliminary funding was applied for to support creating a private farm track that would give local residents a slightly shorter, though limited, access to Martinborough. Council approved $100,000 which has been fully utilised. Additional funding is to be sought from Council on 26 October 2022 to finish the job.
Admiral Hill Road Access
The council roading team continued work on Admiral Hill Road to make it safer. Works include enlarging corners, laying metal, widening pinch points, clearing fallen trees and slips and installing stock warning signs and road edge signs.
Community Support
Whatu Ora provided vaccination services onsite at Hinekura Hall.
September 2022
Hinekura Hall Refurbishment
Funding of $30,000 from the Department of Internal Affairs has been made available to refurbish the Hinekura Hall so it can be used as a social, logistics, and emergency hub. The funds have been made available to Council and renovations will commence as soon as the weather allows.
Road Realignment Planning
WSP has undertaken a geological and geotechnical investigation and worked with the Council and landowners to assess realignment options and develop a proposed project timeline. The new Council is to be sworn in on 26 October and after that WSP and Council will present these to the Council and the community at an agreed time and location.
Hinekura Road Realignment Options Assessment
Hinekura Road Proposed Project Timeline
There are a number of risks that may impact progress. For example, outcomes of the geotechnical assessments/monitoring/investigations and consenting, as well as the availability of the right experts at the right time for these technical tasks.
Alternative Access
The farm track was completed and open for residents to use. Non residents are still able to use the Admiral Hill access. The Council roading team has continued work to ensure this route remains open and safe for all traffic.
October 2022
Council approved an additional $40,000 for the farm track project.
Reports and Plans
Hinekura Road Realignment Preliminary Options
Hinekura Road Residents Meeting Minutes
WSP Hinekura Road Realignment Options