Featherston Masterplan – Discussion Document and Feedback
About the plan
Feedback
Timeline
Next steps
Resources
To help kick off discussion, Council planners produced two Concept Options for residents to consider during an informal consultation phase, which broadly asked them for their views on how Featherston could be improved.
The options – which showed how greater housing density could be achieved around the train station and main street – are found in a Foundation Discussion Document which was released in July. More than 180 people responded via a survey and feedback from public drop-in sessions, and the feedback received is guiding the draft Masterplan. Concept Option One (intensification around the existing main street and train station) was the preferred concept.
The draft Masterplan is expected to go out for formal consultation in the first half of 2023, with a focus on the main street and its links to the train station. In December 2022, the Council agreed to advance detailed designs for Fitzherbert St/SH2 and the walkway to the train station.
Proposals include using the existing median strip on State Highway 2 to enhance the amenity of the main street, with wide and generous footpaths on both sides, retention of carparks and the addition of tree planting, as well as retaining a 7.5 metre carriage for traffic.
The Council also agreed to amend a set of draft principles for the Masterplan, with extra clauses to acknowledge the town's care and future planning for the young and the aged, and a need to integrate infrastructure and land use.
The five principles, based on public comments and feedback from agencies, can be viewed in full below.
About the plan
Featherston has been identified as a town suitable for transit-oriented development in the district's Spatial Plan and in the Wellington Regional Growth Framework.
More recently, it has also been identified by the Wellington Regional Leadership Committee as a Complex Development Opportunity (CDO).
The Foundation Discussion Document was the informal consultation stage of Featherston's Masterplan and primarily focused on enabling more residential housing, but it also looked more broadly at how this would be provided with infrastructure and how it connected to other aspects of the town such as amenities and businesses.
From 30 March 2022, the Council has been talking to hapū/iwi and the community. Groups we have talked to include Pae tū Mokai o Tauira, Featherston Knitting Group, Booktown, Fareham House Creative Space, Featherston Sports Hub, Five Trails Trust, Powerco, Fab Feathy, Wairarapa Moana Trail, and the Department of Internal Affairs. We also held an online public meeting on 30 March 2022.
We've also spoken to appropriate agencies and organisations like KiwiRail, Kainga Ora, Waka Kotahi and Greater Wellington Regional Council.
This engagement has helped us better understand the challenges and opportunities facing Featherston.
The growth options
Our population projections over the next 30 years suggest Featherston will have around 1730 additional residents which means Featherston is likely to need around 940 new homes over that period.
To give Featherston the capacity for this, some new medium density zonings will be required. Section 4 of the Foundation Document lays out some of the options to introduce a medium density zone that allows development at densities of 1 dwelling per 200 square metres. Other parts of town designated "general density" would allow lots of 300sqm.
The current minimum section size across urban Featherston is 500 square metres but many sections are currently 800-900sqm, which makes subdivision difficult.
As this growth occurs it is also important the necessary infrastructure to support that growth is in place. This includes water, waste water and social infrastructure such as parks and reserves.
The options up for discussion have focussed on:
The Town Centre – Commercial activities only
Mixed Use Area – Commercial and residential activities
Medium Density Residential – Houses/Lots at 1 per 200m2
General Residential – Houses/Lots at 1 per 300m2
Outer Residential – Houses/Lots at 1 per 2000-4000m2
Community Uses – Open space, community space, parks, sports facilities and community buildings
Concept Option One – Increased Density Around Main Street and Existing Train Station
Aims to make better use of existing urban land and does not encourage the development of general or medium density development beyond the existing established boundaries.
Concept Option One, and another Concept Option which pushed the medium and general density further south and relocated the train station, were put forward in the Foundation Discussion Document. After feedback, Concept Option One was selected as the preferred option.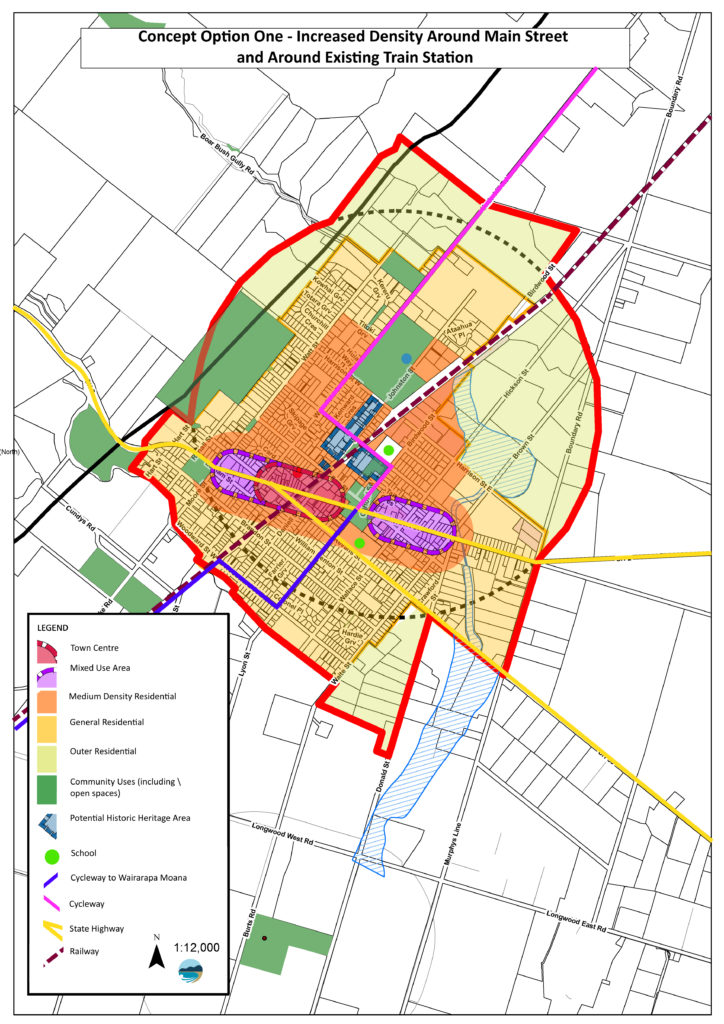 Feedback on Discussion Document
The informal consultation we conducted in July and August 2022 showed that Featherston residents overall preferred Concept Option One which would leave the train station where it is, because it was a walkable distance for most residents and because moving the station would incur significant cost.
Feedback also showed that the majority of residents were open to smaller sections and denser housing in their town, provided it was done well, to increase access to affordable housing that met their needs.
At the same time, residents wanted the qualities that Featherston values to be retained.
There was a high level of engagement, with 154 survey responses and 32 people attending at the five drop-in sessions held.
At the 21 September 2022 Council meeting, Councillors agreed that Concept Option One (intensification around the existing main street and train station) was the preferred concept and should go forward for detailed masterplanning.
They also responded to the community's views on a vision statement. The original vision statement for the plan was: "A strong, caring community where there is a place for everyone".
There was a lot of support for this vision; however, the community also indicated they wanted it to be more aspirational. As a result two options have been put forward for community feedback when the detailed Masterplan goes out for formal consultation in early 2023.
What residents said
The plan's key objectives were:
Creating a pleasant town centre along the main street which also serves as a state highway
Ensuring that there is capacity for growth, with associated infrastructure
Protecting what is valued (such as family living/lifestyle options) while enabling future intensification, housing choice and change
Of the two Concept Options proposed, the majority (64 per cent) supported intensifying housing around the current train station location and main street in Concept Option One.
Only 10 per cent favoured Concept Option Two, to move the station closer to the main street to help stimulate the town centre.
Many people felt the current station was an acceptable walk from the main street, but particular note was made of the walkway from the train station to the shops.
There were suggestions of better lighting, a covered walkway with art or sculptures, or a mixed-use area between the town and the station. Our planners have taken note.
Twenty-two per cent did not support either Option One or Two. Some cited infrastructure as a concern, others believing that changes were needed to both options, such as reducing density in parts of town.
Other key themes included:
Density – More than two thirds of respondents (69 per cent) supported the idea of increased housing density and just under a third did not.
While the number of sections created was greater in Option Two, both options included a medium-density area (minimum 200 square metres), and a general residential zone (down to 300sqm) radiating from the station and town centre.
This would be a big change for many property owners as the current minimum average residential section size in Featherston is 500sqm.
Those who did not support increased density cited infrastructure capacity, or felt the sections proposed were slightly too small.
Advantages of smaller sections for housing are that they can trigger more affordable and give more choice to older people wanting to downsize. Homelessness, especially hidden homelessness, was a concern mentioned by a number of people.
Heritage protection – General support for a design guide in Featherston, which would help ensure increased density is sympathetic to the town's quality.
Stimulating the main street – This was a very important theme for many respondents and there was a large range of suggestions on how this could be improved. Planners will look at a number of measures which may include traffic calming measures, planting, new paving, speed limits, and safety.
Reserves – Submissions championed better use of parks and reserves, especially with higher density. A general guideline for reserves is 4 hectares of reserve land per every 1000 people. There is currently 13.3ha of reserve land, not including One Tree Hill and Ōtauira reserve. If the population of Featherston grows as projected, 17.2ha would be needed.
Industrial land – Featherston's main street has a mix of zoning with commercial near the middle and industrial on the east and west sides of the main street. There is also a larger industrial zone at the end of Birdwood St.  
A town centre zone on the main street, as proposed in Option One, would provide for core commercial activities, but remove some industrial zoning.  
People were split between the need for more industrial land and a large number of people wanted industrial land to cater for light industrial to support commercial business. Others felt the land in Birdwood St was under utilised.
Timeline to date
Work began in January 2022
A variety of community groups were consulted, including Booktown, Wairarapa Moana, Fab Feathy and others. A design charette (workshop) is held with government agencies.
Because of its location, Featherston has been listed as one of seven areas expected by the Wellington Regional Leadership Committee to be a top "growth node" for the Wellington region. This means the town can expect support, inter-agency liaison, and government investment to implement the growth.
A Foundation Discussion Document was presented to Council on 14 July 2022 and three weeks of community consultation begins shortly after via a survey and drop in sessions.
A Council workshop on 1 September 2022 provided a summary on the feedback and discusses the two concept options.
On 21 September 2022, Council adopted Concept Option One for detailed design work and a new vision statement using words which reflected the feedback of residents.
On 5 October 2022, a design charette was held to develop Concept Option One. This involved government agencies and key stakeholders including Pae tū Mōkai, Greater Wellington Regional Council, Waka Kotahi, Wellington Water and KiwiRail. The charette is important to integrate the operational requirements of all parties in the Masterplan and ensure that there is a strategy that all parties agree to implement.
On 14 December 2022, the Council gave planners the go ahead for detailed designs for a draft Featherston Masterplan. It also adopted Five Principles for the Masterplan.
Next steps
Work has begun on a detailed Masterplan for formal feedback in early 2023.
Further engagement with the Wellington Regional Leadership Committee will occur, in line with Featherston being prioritised as a Complex Development Opportunity.
It is intended to have a draft Masterplan ready for Council to review in the first half of 2023.
Formal consultation will then occur, giving residents and the community will the opportunity to provide written submissions and speak to their submissions before the new Council.
Resources