Climate Change
Climate Change Community Dashboards:
What is Climate Change?
According to the UNFCCC (United Nation Framework Convention on Climate Change), Climate Change means a change of climate which is attributed directly or indirectly to human activity that alters the composition of the global atmosphere and which is in addition to natural climate variability observed over comparable time periods
Greenhouse effect
Greenhouse gases trap warmth from the sun and make life on Earth possible. Without the influence of the greenhouse effect on our planet, the average surface temperature would be -18°C (average temperature on Earth with the greenhouse effect is 15°C).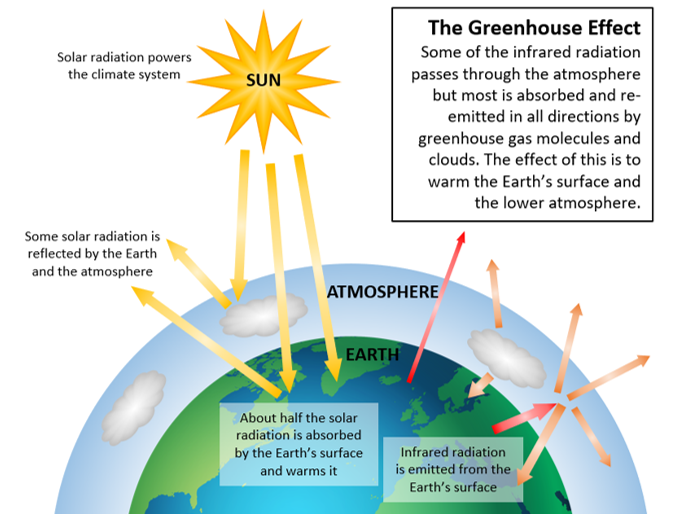 What causes Climate Change?
The greenhouse gas (CO2, CH4 and N2O) concentration in the atmosphere has been raising quickly since the last 150 years (since the industrial revolution) because of fossil fuels burning, deforestation, etc.
Because the global temperature is correlated to the greenhouse gas concentration, an increased greenhouse gas concentration means increased global temperatures.
Not only are temperatures rising but the whole climate is changing (increase in the extreme weather events (e.g. storm, drought), melt of the ice pack, sea level rise, ocean acidification, etc).
Climate change projections for Wairarapa
2040
2090
Temperature and seasonality
Average annual T°C
+0.5 to +1°C above present
+1 to +3°C above present
Hot days (above 25°C)
Between 0 and 30 days increase
Between 0 and 80 days increase
Frost nights
Between 0 and 15 days reduction
Between 0 and 40 days reduction
Rainfall patterns and intensity
Average annual rainfall
5% decrease to 5% increase
10% decrease to 5% increase
Amount of rain falling during heavy rainfall days (>99th percentile of daily rainfall)
0% to 15% increase
0% to 30% increase
Days of very high and extreme forest fire danger
100% to 150% increase
100% to 150% increase
Wind
Annual number of windy days
0 to 6 days increase
0 to 12 days increase
Intensity of wind during windy days (>99th percentile of daily mean)
0% to 3% increase
1% to 4% increase
Sea level and coastal hazards
Permanent sea level rise
+0.12 m to +0.24 m above present
+0.68 m to +1.75 m above present
Oceanic changes
Acidification of the ocean
General temperature rise of sea water
Marine heatwaves
To go further:
Likely impact of climate change for Wairarapa
The expected direct impacts of climate change (such as increased temperature, increased flood intensity and sea level rise) impact the communities living in Carterton and South Wairarapa District. The key impacts on the communities are:
Impact on the environmental well-being (biodiversity losses, increased pests and rodents, increased coastal inundation…)
Impact on the social well-being (increased risk on the human health and human life, increased pressure on drinking water quality and availability…)
Impact on the economic well-being (reduced productivity, increased damage to properties, increased pressure on insurances and mortgages…)
Impact on the cultural well-being (loss of cultural identity, loss of important cultural activities, loss of taonga species…)
Ruamāhanga Climate Change Strategy
Do you want to know your own carbon footprint?
More Helpful Links