23 June 2022
The Hinekura Road hill slip following the wild weather experienced mid-June is understandably impacting the daily lives of all residents living beyond the slip. The slip has destroyed a portion of the road, resulting in closure of the road to all users. The alternative route via Admiral Road takes much longer and is less attractive.
South Wairarapa District Council is sympathetic and concerned for the welfare of residents and is working at speed with other parties to provide the necessary support Hinekura Road residents need at this time.
Hinekura Road Relief Fund
Council is pleased to announce the launch of a $20,000 Hinekura Road Relief Fund. The funding is provided by the South Wairarapa District Council to ease the immediate burden on Hinekura residents because of the road closure. We are very grateful to the Rural Support Trust for agreeing to administer the Fund. Details on criteria and application process will be made available to residents soon.
We are also getting a clearer picture of the needs of residents, and a residents' meeting on Wednesday 29 June at 6.30pm will be an important time to hear more fully the challenges that residents face and to consider solutions.
Alternative route via Admiral Road
In light of the increased traffic volumes, maintenance works are continuing on the alternative route via Admiral Hill. This includes:
Visibility earthworks to improve safety on some targeted points;
Surface metal being added to Ngakonui Road to improve driving condition;
Curve warning marker pegs being installed;
Tractor and large mulching mower are due on site today to clean up sides of the road.
All users of this route are urged to close any farm gates that they open to access the road to stop cattle from wandering.
Longer term viable option
Council is looking at viable options for an alternative route for Hinekura Road users other than Admiral Road. WSP Engineering were onsite today, Thursday 23 June, capturing a new extended drone survey covering all the main route options and landslide. WSP are due to provide a full update to Council Officers early next week which will cover the different workstreams such as geotechnical outcomes, surveying, slope monitoring system, new road alignment options.
Waka Kotahi will be onsite next week to view the damage as part of our preliminary application for emergency funding to provide sustainable access for Hinekura road users.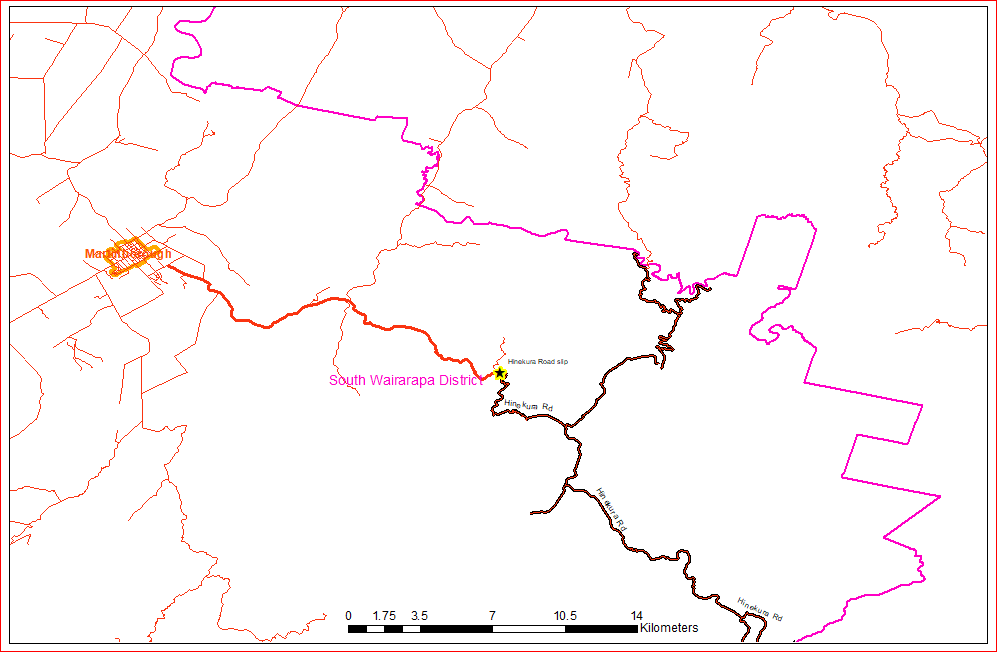 ENDS
Media contact: Sheil Priest, General Manager Communications & Engagement
South Wairarapa District Council
Mob: 027 252 2863
Email: media@swdc.govt.nz