28 July 2021
Waka Kotahi NZ Transport Agency contractors will be doing urgent road surface repair work on State Highway 2 south of Greytown tomorrow, Thursday 29 July, from 8:30am – 2:30pm.
They will be working on the highway in the 700 metres immediately north of the southbound passing lane, as shown: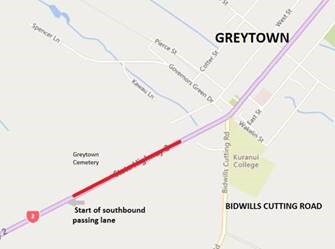 The work will be done from 8.30am to 2.30pm. If rain delays work, they will continue on the first available day.
TRAFFIC MANAGEMENT
Traffic will be managed with stop/go controls during the day with a set up start time of 7.30am and work start at 8.30am until 2.30pm.
During the daytime, vehicles will be travelling at a reduced speed of 30km/h through the stop/go closure.
These are urgent works and must be undertaken during the day and will possibly cause delays, please plan your journey.
Traffic management staff will be monitoring traffic delays and will alleviate accordingly.