Three Waters Reform Programme
What is the Three Waters Reform programme?
The Three Waters Reform Programme was launched by the Government in July 2020. The programme's purpose is to consider how best to regulate and deliver the three water services – drinking water, wastewater and stormwater – across New Zealand.
Currently, 67 different councils, including South Wairarapa, own and operate the majority of the country's water services. However, councils face a number of challenges to deliver these in an affordable way into the future, including ageing infrastructure, growth and the impacts of climate change.
The Government's reforms propose putting all water services into four larger public entities. South Wairarapa District Council would be in entity C with 22 other councils from the top of the South Island, the Wellington region and the east coast of the North Island.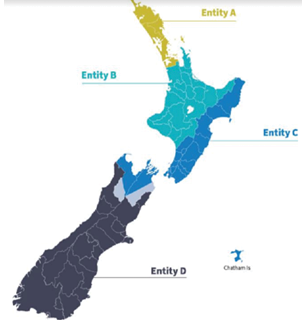 This is a big issue for all Councils, and one this Council is taking very seriously to ensure a good outcome for our district. It is clear things cannot continue as they are, and legislation is currently being introduced to Parliament.
The changes themselves would not come into place until 2024. In the meantime, the Council will continue to deliver water services through Wellington Water, the region's joint Council-controlled organisation. South Wairarapa, Porirua, Wellington, Hutt, Upper Hutt and Greater Wellington Councils are all owners in Wellington Water.
Our submission on Three Waters
South Wairarapa District Councillors have filed a submission with Parliament's Finance and Expenditure committee on the Water Services Entities Bill, the first stage of the Three Waters reform proposals. Submissions closed on July 22, 2022.
The submission reflects the thinking of Councillors, the information they have been provided, and the conversations they have had with some community stakeholders and residents.It also notes Council's limitations as a small Council to engage deeply with its communities on issues outside its legislative requirements. Residents have shared their thoughts with Councillors individually, through Council meetings, the annual plan process, and social media.
There was a diversity of opinion but Councillors agreed on several points about the reform, including:
Timing – the need for proposed changes to be better phased to consider the large number of reforms underway, which have a significant impact on smaller councils and communities like the South Wairarapa.
Governance – the need to consider co-designing the Water Services Entities constitution, to build trust with shareholders and to make the skill and background requirements of all members in the model clearer.
Privatisation – the need to build confidence over how assets would remain in public ownership if the new entities were to be dissolved.
Rural users – that consideration be given to including or exempting certain rural specific assets, so that planning and preparation for these assets remaining in Council can occur in a timely and non-disruptive manner.
Pricing, billing and affordability – to urgently address pricing, billing decisions, and the issue of affordability to give confidence to communities about the future costs of their water services.
Community engagement – either resource councils to adequately undertake this engagement on behalf of central government, or provide easy to understand information and resources that genuinely meet the needs of communities.
For more details, please read our submission here.
Your feedback
If you would like to share your thoughts on the reform programme – you can complete this feedback form. Please note, this feedback will not be forwarded to the Parliamentary select committee – it is for Council's information only.
If you have other questions or would like to raise specific issues about the reform programme, please email: 3waters@swdc.govt.nz
Relevant information can be found on the Department of Internal Affairs' websiteand on the Local Government New Zealand website.
Why Three Waters was introduced
Three Waters was triggered by the fact that many parts of the country have inadequate water infrastructure which will come under increased pressure as tougher water quality standards are introduced.
The reforms were triggered by a major campylobacter contamination of Havelock North's drinking water in 2016. The outbreak made an estimated 5,500 residents ill, hospitalised 45 people and may have been a contributing factor in three deaths. A Government inquiry found the probable cause was sheep faeces from flooded paddocks entering an aquifer near a key water bore.
Water quality issues can often create service interruptions. An estimated that 40,000 people were affected by boil water notices in 2020.
To help improve water quality, a new drinking water regulator Taumata Arowai came into effect with the Water Services Act in November 2021. The Ministry of Health remains in change of drinking water policy, but Taumata Arowai will enforce new drinking water standards which will come into effect on 1 July 2022.
These new water standards and existing infrastructure issues raise the game for local Council water assets. The Government estimates that without reform, households are expected to face water costs of up to $9000 per year, or, the prospect of services that fail to meet the needs of their communities.
Local Government Minister Nanaia Mahuta recently told Parliament that up to $185 billion worth of investment is expected to be required to upgrade New Zealand's three waters infrastructure over the next 30 years. There was a need to meet modern standards, expand the network for growing communities, and build resilience to the effects of climate change and natural hazards. This would be "unaffordable" for most communities under the current arrangements.
However, the reforms have been controversial with some Councils. Some key concerns are that assets are being transferred out of local control, that there is a risk of privatisation, and that local communities will lose their voice in bigger structures. There are also concerns around co-governance, that the model does not stack up, that communities will get a lower level of service, and that communities have missed a say on the reform process.
A summary of some of these concerns can be found on the Local Government NZ website.
To address these concerns, a Three Waters working party on governance, representation and accountability recommended earlier in 2022 that Councils be given shareholdings in the water entities, in proportion to their population – a recommendation the Government has accepted.
Two other working groups, one on rural supply technical issues and one on planning technical issues, were also established.
Read more about the changing regulatory environment on the DIA website.
The journey to Three Waters
2016
Havelock North campylobacteria outbreak affects thousands of residents
2020
South Wairarapa District Council and other councils around the country sign a Memorandum of Understanding (MOU) agreeing to work with the Government on water reform.
2021
In July, the Government gives Councils data about WICS (Water Industry Commission for Scotland) water reforms along with other information from the Department of Internal Affairs. Councils were asked for their feedback by October 1. No decisions were required.
Councils are asked considers the model holistically in terms of service, finance and funding, economic development and growth, workforce, delivery and capability, and social, cultural and environmental wellbeing.
South Wairarapa District Council identifies a number issues of local concern, and requests greater clarity from the Government so it can conduct public consultation. This is the SWDC's initial feedback to the Department of Internal Affairs on the Three Waters proposal.
The Council notes that amalgamating water assets would remove Wellington Water's responsibility for maintaining our district's critical waters infrastructure and services. Council would no longer be responsible for delivering drinking water supplies to households.
Council also notes it could mean changes to how much ratepayers pay for water and wastewater services, and who they paid in the future.
In October Local Government Minister Nanaia Mahuta indicates that the Government will press ahead with 3 Waters on an all-in, rather than opt-in, basis. Local governments will not be asked to consult their communities.
Taumata Arowai, a new drinking water regulator, becomes full operational with the Water Services Act's enactment in November.
2022
In March, three working groups are established to consider Council feedback report back on to the Government. Two of the groups are focused on technical issues (planning and rural services), the third on governance and representation.
On 29 April, the Government accepts most of the governance group's recommendations, notably to give Councils shares in the four water entities. South Wairarapa would have one share out of 36 in Entity C. The Government's response to the governance working group's recommendations can be found here.
At this stage, Three Waters legislation remains on track to be introduced into Parliament in mid-2022.
Governance and Better Off Funding
The Government has accepted most of the Three Waters governance working committee's recommendations, including giving Councils a shareholding in their water services entities.
Another key recommendation was the need to embed co-governance principles at the Regional Representative Group level. Each entity would have a Regional Representative Group, whose membership would be split 50:50 between local council and iwi/hapū representatives. The representative group would appoint the entity's board, which would, in turn, appoint executives for the entity's day-to-day running.
The Government agreed there should be iwi-Council co-governance in the regional representative groups, but declined to mandate co-chairs, although it would allow it.
The report also recognises Te Mana o te Wai as a "korowai" (principle) that applies across the water services framework;
The Department of Internal Affairs has released a "local dashboard" relating to the costs of reforms versus the status quo for each Council on its Three Waters page. Without reform, it estimates the average New Zealand household will be paying $1900 to $9000 a year in water costs by 2051. With reforms it believes these will be $800 to $1640.
Better off funding
Better Off Funding is a $2.5b support package for local authorities under the reform programme.
The purpose of the package is for Councils to support their communities. It gives Councils the opportunity to create and accelerate projects that build resilience to climate change, support housing development or enhance local placemaking and community wellbeing. These could include local parks and gardens, pools, libraries and community centres, or investment in public transport and infrastructure to protect against extreme weather events or sea level rise.
This first $500 million of the $2 billion better off package comes from the Crown and became available from 1 July 2022. Councils can submit funding proposals until 30 September.
The funding doesn't come with political strings, and does not preclude Councils from holding a position on the reform. Accepting this funding doesn't imply support for the reform.
The terms around the use of this funding are set out in the Heads of Agreement negotiated by Local Government New Zealand last year
What is the current water delivery model in South Wairarapa?
South Wairarapa District Council supplies the three water services to residents of South Wairarapa.
Council's aim under the Long Term Plan is to provide reliable and sustainable reticulated potable water supplies to the townships of Greytown, Featherston and Martinborough, and to provide stock water-race supply networks from the Tauherenikau and Waiohine Rivers.
Water in our district comes from the Waiohine catchment for Featherston, the Kuratawhiti Street bore for Greytown residents, and the Herricks bore field for users in Martinborough. Treated water is delivered to residential properties through the network reticulation.
SWDC became a joint owner of Wellington Water Limited on 1 October 2019. This means that while Council owns all its 'three waters' infrastructure, Wellington Water is responsible for managing it and providing three waters services to the Council. This includes providing planning, advice, design, project and operations management, maintenance, and monitoring relating to the assets and services of the water networks. SWDC sets all the policies and performance objectives that are expected to be met by Wellington Water.
Read more about our current water service on our Water page.
The shape of the proposal for South Wairarapa
Under the Government's proposal, South Wairarapa would be part of "Entity C" along with 22 other councils from the top of the South Island, the Wellington region and the east coast of the North Island.
The assets (including pipes, pump stations and the wastewater treatment plant) would be transferred to the new entity who would be the new owner of these assets.
The costs of water services that are currently charged for within rates would be removed and billed separately by the water entity – just as you receive a bill for electricity supply.
It is intended that the entities have the scale, capacity and capability to improve delivery at an affordable cost. The proposals also mention a suite of mechanisms to protect Māori/iwi rights and interests and prevent privatisation, and an economic regulator would be appointed to protect consumer interests and provide strong incentives for performance.
A local dashboard outlining the modelling for South Wairarapa District can be found here.
Key Milestones to come
Better off funding process – applications open from July 2022
Local establishment entities and establishment process – mid to late 2022
2023 – Significant transition activity
1 July 2024 – Three Waters is due to "go live"'
---