Three Waters Reform Programme
1 October 2021
This is the SWDC's initial feedback to the Department of Internal Affairs on the Three Waters proposal. Public consultation is still to come.
If you have any questions or feedback on this or any issues around the Three Waters Reform programme please email: 3waters@swdc.govt.nz
August 2021
What is the Three Waters Reform programme?
The Three Waters Reform Programme was launched by the government in July 2020. The Programme's purpose is to consider how best to regulate and deliver the three water services – drinking water, wastewater and stormwater – across New Zealand.
Currently, 67 different councils, including South Wairarapa, own and operate the majority of the country's water services. However, councils face a number of challenges to deliver these in an affordable way into the future, including ageing infrastructure, growth and the impacts of climate change.
The government's reform proposes putting all water services into four larger public entities. South Wairarapa District Council would be in entity C with 22 other councils from the top of the South Island, the Wellington region and the east coast of the North Island.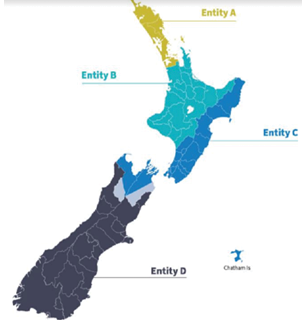 This is a big issue for all Councils and one we are taking very seriously to ensure a good outcome for our district. It is clear things cannot continue as they are, but the way forward has not been decided just yet.
Changes will not come into place until 2024 and in the meantime, we will continue to deliver water services through Wellington Water, the region's joint Council controlled organisation. South Wairarapa, Porirua, Wellington, Hutt, Upper Hutt and Greater Wellington Councils are all owners in Wellington Water
We are currently within an 8-week period of research and learning, in which we will be able to find out how the proposal effects South Wairarapa. We are identifying issues of local concern, and questions to which we need answers from the Government before we can commence public consultation.
Following our feedback to Government by 1 October, we expect to receive the necessary information which will inform our fuller understanding of what the proposal is that we can use for public consultation.
Amalgamation could remove Wellington Water's responsibility for maintaining critical waters infrastructure and services. For example, Council would no longer be responsible for delivering drinking water supplies to households. It may also mean changes to how much our ratepayers pay for water and wastewater services, and who they pay for these services, in the future.
It's early days and there is a lot to work though. We will keep this page updated as things evolve.

All relevant information can be found on the Department of Internal Affairs' website and on the Local Government New Zealand website.
What has happened so far?
Last year, South Wairarapa District Council (along with every other Council in the country) signed a Memorandum of Understanding (MOU), agreeing to work with the government on water reform.
Since the latest round of announcements (in July), the government has given Councils until the end of September to analyse the WICS data and information provided by the DIA, and consider the implications for the Council, the city and the people who live and work here. No decisions are required. Following feedback from councils, we then expect the Government will make decisions on its next steps in the process.
What stage are we at now?
We are working through the extensive information provided by the Department of Internal Affairs (DIA) to better understand how the proposals would affect the Council and the community. Through this process we will also consider alternatives to the proposals and identify issues of local concern to allow the Government to consider ways of addressing these.
Under the government's proposal, South Wairarapa would be part of "Entity C" along with 22 other councils from the top of the South Island, the Wellington region and the east coast of the North Island.
The proposal indicates the entities would have an independent board which would deliver the needs of Councils through a yet-to-be finalised governance structure. Councils would not hold a financial shareholding interest in these new entities.
The assets (including pipes, pump stations and the wastewater treatment plant) would be transferred to the new entity who would be the new owner of these assets.
The costs of water services that are currently paid by everyone in their rates will be removed and billed separately by the water entity – just as you receive a bill for electricity supply.
It is intended that the entities have the scale, capacity and capability to improve delivery at an affordable cost. The proposals also mention a suite of mechanisms to protect Māori/iwi rights and interests and prevent privatisation, and an economic regulator would be appointed to protect consumer interests and provide strong incentives for performance.
How would the Three Waters Programme impact me?
Right now we are working to fully understand the impacts to rate payers. The government has released a dashboard on the Three Waters Webpage. However these data still need be verified and compared alongside our own projections for water service costs, based on our own Long Term Plan.
What we do know is that the status quo is not an option.
From Local Government NZ: If a council "opts out", it would find itself operating in a very different landscape, with large and growing proportion of expenditure and energy eaten up by three waters investment and compliance. It would be exposed to three new areas of regulatory focus:
Taumata Arowai ensuring stringent compliance with current drinking water safety standards. Complying with these standards may require infrastructure investment. But councils will not be able to defer crucial upgrades on the grounds of cost.
Taumata Arowai working alongside Regional Council regulators to provide national oversight on the performance of wastewater and stormwater networks;
Economic regulation to ensure fair, affordable pricing for water consumers as well as appropriate levels of investment across three waters services.
Read more about the changing regulatory environment on the DIA website
What is expected from Councils by 1 October 2021?
That South Wairarapa District Council understands the key features of the proposed model and how it is intended to work.
That Council applies the proposed model to South Wairarapa, both today and in the future.
That Council considers the model holistically in terms of service, finance and funding, economic development and growth, workforce, delivery and capability, and social, cultural and environmental wellbeing.
Please see more info on expectations on the DIA website here
What is the current water delivery model in South Wairarapa?
South Wairarapa District Council supplies the three water services to residents of South Wairarapa.
Council's aim under the Long Term Plan is to provide reliable and sustainable reticulated potable water supplies to the townships of Greytown, Featherston and Martinborough, and to provide stock water-race supply networks from the Tauherenikau and Waiohine Rivers.
Water in our district comes from the Waiohine catchment for Featherston, the Kuratawhiti Street bore for Greytown residents, and the Herricks bore field for users in Martinborough. Treated water is delivered to residential properties through the network reticulation.
As of 1 October 2019, SWDC became a joint owner of Wellington Water Limited. This means that while council owns all its 'three waters' infrastructure, Wellington Water is responsible for managing it and providing three waters services to the Council. This includes providing planning, advice, design, project and operations management, maintenance, and monitoring relating to the assets and services of the water networks. SWDC sets all the policies and performance objectives that are expected to be met by Wellington Water.
Read more about our current water service on our Water page.
---