Featherston Masterplan – the options
Drop in sessions
Our planners are now holding drop-in sessions to hear your feedback and answer any questions you may have about our work on the Featherston Masterplan.
We've prepared a discussion document with a host of information about possibilities for section sizes, densification around public transport, main street rejuvenation and more.
The feedback we get will go towards a draft Masterplan and then to more formal consultation and hearings. This is the informal consultation phase and it closes on August 19.
To drop in and discuss with one of our planners, visit:
Featherston Library:
* Wednesday 3 August 9.30am-4pm
* Saturday 6 August 9.30am-11am
* Wednesday 10 August 9.30-4pm
Anzac Hall Supper Room
* Thursday 11 Aug 6.30pm-8pm
* Tuesday 16 August 5pm-7pm
About the plan
Featherston has been identified as a town suitable for transit-oriented development in the district's Spatial Plan and in the Wellington Regional Growth Framework.
More recently, it has also been identified by the Wellington Regional Leadership Committee as a Complex Development Opportunity (CDO).
The Foundation Discussion Document is the informal consultation stage of Featherston's Masterplan. It primarily focuses on enabling more residential housing, but it will also look more broadly at how this would be provided with infrastructure and how it connects to other aspects of the town such as amenities and businesses.
Since 30 March 22, the Council has been talking to hapū/iwi and the community. Groups we have talked to include Pae tū Mokai o Tauira, Featherston Knitting Group, Booktown, Fareham House Creative Space, Featherston Sports Hub, Five Trails Trust, Powerco, Fab Feathy, Wairarapa Moana Trail, and the Department of Internal Affairs. We also held an online public meeting on 30 March.
We've also spoken to appropriate agencies and organisations like KiwiRail, Kainga Ora, Waka Kotahi and Greater Wellington Regional Council.
This engagement has helped us better understand the challenges and opportunities facing Featherston.
The three challenges/opportunities we foresee are:
Creating a pleasant town centre along the main street/State Highway 2
Ensuring that there is capacity for growth, and enough infrastructure
Protecting what is valued – family living/lifestyle options – while enabling intensification, choice and change
The growth options
Our population projections over the next 30 years suggest Featherston will have around 1730 additional residents which means Featherston is likely to need around 940 new homes over that period.
To give Featherston the capacity for this, some new medium density zonings will be required. Section 4 of the Foundation Document lays out some of the options to introduce a medium density zone that allows development at densities of 1 dwelling per 200 square metres. Other parts of town designated "general density" would allow lots of 300sqm.
The current minimum section size across urban Featherston is 500 square metres but many sections are currently 800-900sqm, which makes subdivision difficult.
We are looking for your feedback.
As this growth occurs it is also important the necessary infrastructure to support that growth is in place. This includes water, waste water and social infrastructure such as parks and reserves.
The options up for discussion have focussed on:
The Town Centre – Commercial activities only
Mixed Use Area – Commercial and residential activities
Medium Density Residential – Houses/Lots at 1 per 200m2
General Residential – Houses/Lots at 1 per 300m2
Outer Residential – Houses/Lots at 1 per 2000-4000m2
Community Uses – Open space, community space, parks, sports facilities and community buildings
Concept Option One – Increased Density Around Main Street and Existing Train Station
Aims to make better use of existing urban land and does not encourage the development of general or medium density development beyond the existing established boundaries.
Concept Option Two – Intensification Around Main Street and New Town Centre Train Station
Would move the train station to the centre of town to help support main street rejuvenation and create a range of densities
Located more to the south, this option also does not encourage the development of general or medium density development beyond the existing established boundaries.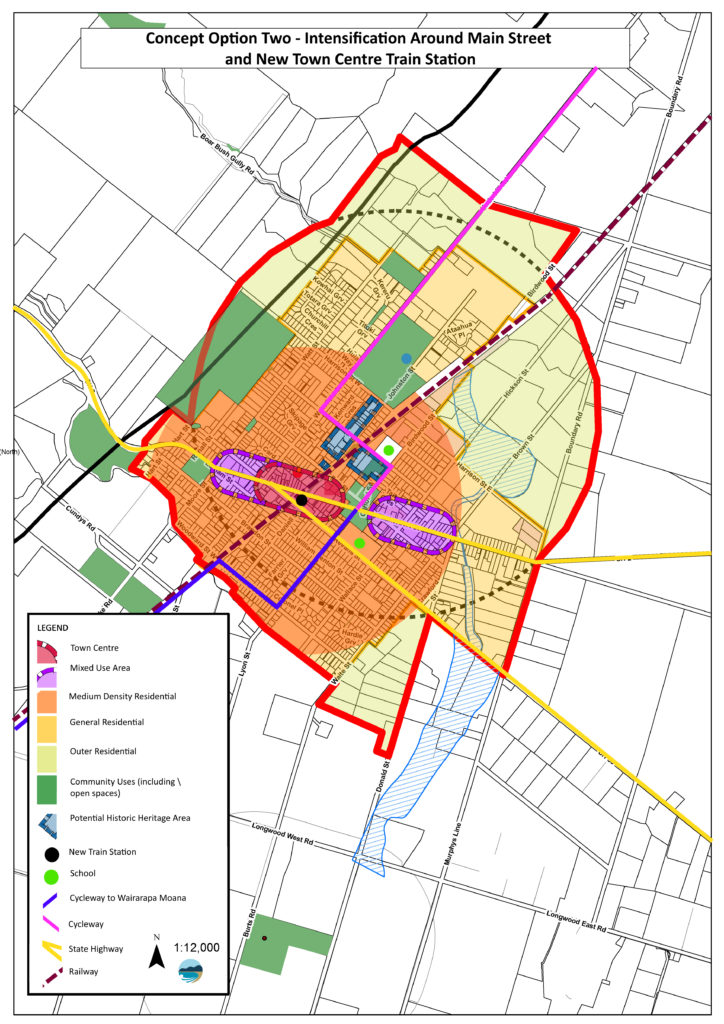 Both proposals would have minimum section sizes of 300 square metres in the "general" areas, and 200sqm in the "medium density" zones. This is a reduction of the current minimum lot size in Featherston which is 500sqm but many sections are 800-900sqm, which are unable to be subdivided.
Feedback
What are your thoughts? There are several ways to give us your feedback.
Write to us at spatial-planning@swdc.govt.nz
Pick up and drop off a survey form at one of our libraries
Or come to one of our drop-in sessions – details above
Consultation ends on 5pm Friday, August 19. Formal consultation and hearings will be held later in the year. It's hoped to finalise and release the Masterplan in early 2023.
Resources