Featherston Masterplan – What's a masterplan?
The South Wairarapa Spatial Plan was released in early December 2021. The district-wide Spatial Plan identified Featherston as a Growth Node (growth area), and in 2022 we have started master planning Featherston. Further consideration of Greytown and Martinborough will follow.
Recent growth shows that Featherston is an attractive place to live; at the same time this growth brings new challenges such as the increase in house prices and rentals. The Master Plan is an opportunity to be responsive to these challenges and future opportunities.
The Master Plan process involves community and sector engagement, integrated town planning and
infrastructure assessment, the compilation of a draft, reporting, consultation and feedback, refinement, and the compilation of a final plan at the end of the year.
The Featherston Master Plan is a plan to enable transit-oriented growth around the train station, together with achieving a well-functioning urban environment that meets the needs of a diverse population. The town is recognised by the Wellington Regional Leadership Committee as a "Complex Development Opportunity" (or CDO) within the wider region, and a potential focus for investment from central government.

What is a Master Plan?
An over-arching plan that shows where and how development might occur in Featherston over time (in other words, it shows spatial layout and structures development)
It is not a resource management (ie. regulatory) process
A plan that identifies what is important to iwi/hapū and community
A plan that anticipates change, plans for it, and also looks to protect qualities most valued
A plan that looks to integrate transport, housing, business, parks and reserves, infrastructure and community facilities
A plan that identifies what needs to be done to deliver the Spatial Plan
Why a Master Plan for Featherston?
It enables planned approach to growth, getting the best and coo-rdinated use of public investments such as the train station, parks and reserves, community facilities, managing the impacts of the State highway, and integrating development
It enables the co-ordination and integration of multiple agencies planning and delivery
It captures community views and builds on existing local initiatives
It can address new challenges, e.g. the need for affordable and different types of housing – the median house price in September 2021 was $621,850.
Featherston was identified as a growth area in the Wellington Regional Growth Framework. Its estimated growth is around 900 persons over the next 30 years
What is the Wellington Regional Growth Framework?
Wellington Regional Growth Framework is a spatial plan and a blueprint for regional growth that has been developed by local government, central Government and iwi partners across the Wellington-Wairarapa-Horowhenua region. Featherston has been identified as being an urban renewal area.
Read more about the Wellington Regional Growth Framework here: Wellington Regional Growth Framework | WRGF Spatial Plan
What is the Featherston Growth Node (Area)?
A growth area can be described as "an area identified for more urban development and renewal". In the case of Featherston, this will include investigating more growth and development around the train station and the Featherston township.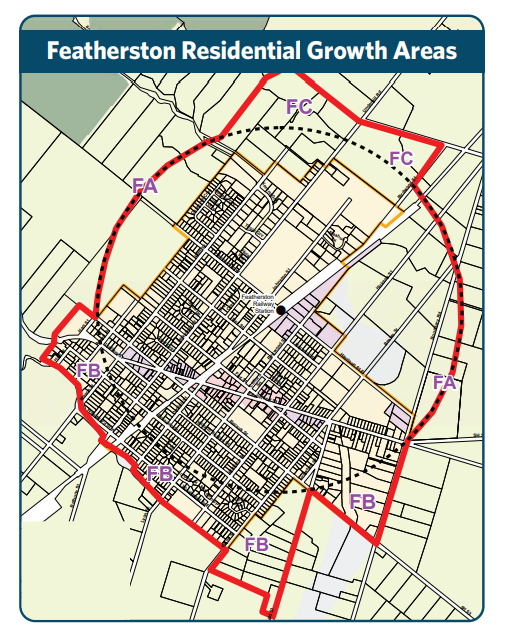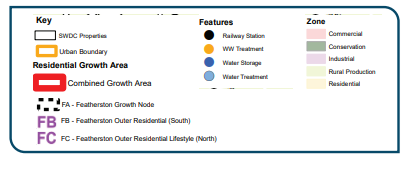 How does this relate to the South Wairarapa Spatial Plan?
The South Wairarapa Spatial Plan was the first step which led us to Master planning for Featherston. The Spatial Plan provides a blueprint for what we want our district to look like in the future. Through this process, we were told to focus on

Connection with Wairarapa Moana

Economic and community development opportunities
Unlike the other towns, master planning for Featherston will plan for all areas, such as residential housing, public open space, infrastructure, transport, as well as the town centre and commercial activities.
The South Wairarapa Spatial Plan aligns with our district vision and feeds into future annual plans, long-term plans and district plans. It will also provide guidance for the development of infrastructure.
This is consistent with the Wellington Regional Growth Framework, which looks at the wider Greater Wellington Region as a whole.
Link to the Spatial Plan here: Spatial Plan – SWDC SWDC
What about infrastructure?
The master-planning process includes looking at the status of our current infrastructure and what will be required in order to make the master plan come alive.
Master-planning informs infrastructure planning which also then informs the Long Term Plan and Annual Plans.
Who is involved in creating the Master Plan?
There are a number of stakeholders, groups and agencies involved in developing this master plan, which include but are not limited to:
The Featherston community
Iwi/Mana whenua
Community groups, sports groups, schools
Local businesses
Local government
Central government – Kainga Ora, Kiwi Rail, NZTA
What are the options?
The Featherston Discussion Document is the next step in our consultation process. Based on the feedback so far and our experts, we have two concept options to consider – there will be a page up giving more details on July 22.
This consultation stage will last until August 19. To get all the details, you can see hard copies of the document at our three libraries or at the Council offices or find a copy of it on our website. To give us feedback, please consider filling in our survey online, or grab a copy at the libraries and Council offices. We will also be advertising drop-in sessions with our planners.
The next step is to draw up a draft Master Plan which will go out for consultation and hearings, after which it will be put forward for adoption and implementation early next year.
How can I stay up to date?
You can subscribe to a regular newsletter on the master plan's progress by emailing the address below.
There will also be updates on our website, on this page.
Who can I talk to about this?